We are your local Solar Power and Solar Hot Water specialists on the Central Coast and in Newcastle, with our head office and showroom based at West Gosford. Our regional business offers local, old fashioned service.
The people who attend your free onsite quotations are also the installers of your solar power and solar hot water systems. Within our professional team, we have BSCE solar power licences, Grade 4 Certificate 2 metering licences, licenced gas fitters, plumbers and electricians so that we can offer complete customer service.
That means you don't need to organize additional plumbing or electrical services saving you time and money. Our experienced and knowledgeable installers are passionate about the renewable energy industry and pride themselves on quality workmanship and attention to detail. We offer a no fuss, holistic service with our primary concern being quality, both of our products and our service.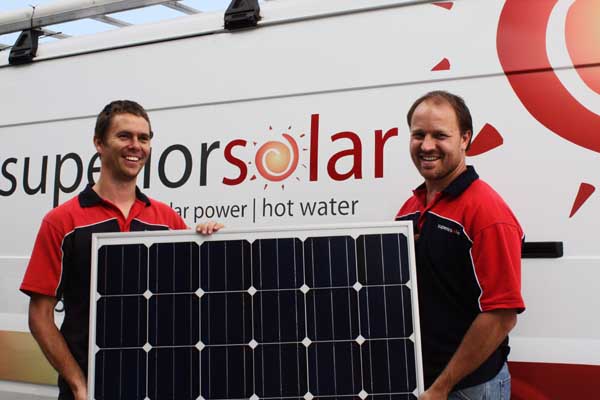 This is an Australian website.
Magnify Pty Ltd trading as Superior Solar
Superior Solar Difference
Reliable, quality systems
built for Australian coastal conditions
Local Business,
established 10 years, committed to servicing your area
Knowledgeable, experienced team
to answer all your questions and see your project through to completion
Customer Care
and after sales service like no other
Our Solar Team
We are passionate about the solar industry
Derek Woods
Director
Qualifications: Licensed tradesman with over 20 years experience in the solar industry.
Specialty: Solar power & hot water – sales, technical knowledge; business management.
At my house:
5kW Solar Power System
Solar Hot Water
Alex Wrightson
Operations & Commercial Manager
Qualifications: Adv Dip Elect Tech & Accredited PV Grid Connect Solar System Designer
Specialty: Commercial solar power management & design; operations; solar power & hot water technical advice.
At my house:
Aidan Gould
Solar power & hot water service technician & installer
Qualifications: Cabling and data license, Electrician
Specialty: Solar power installations; solar output & power usage monitoring.
At my house:
1kW Solar Power System
Solar Hot Water
Phil Patch
Electrician
Qualifications: CEC accredited PV Grid Connect Designer and installer, ASP (Authorised Service Provider) level 2 grid connect metering, Electrical Contractors Licence
Specialty: Solar Power
At my house:
Ken Hargreaves Snr
Solar Installer and roofing specialist
Specialty: Solar Power, Solar Hot Water
At my house:
Ken Hargreaves Jnr
Solar Installer and roofing specialist
Specialty: Solar Power, Solar Hot Water
At my house:
Kerry de Soma
Accounts Payable
Qualifications: Bachelor App Science
At my house:
2.2kW Solar Power System
Solar hot water
Dee Watkins
Marketing & Online Development Manager
Qualifications: Bach App Science
Specialty: Marketing & Online Development
At my house:
Michaela Mashall
Administration & Accounts Receivable
Vision Statement
To make a contribution to a more sustainable future by stewarding individual awareness and change that builds a world we want for our children.
We believe the world will be a better place powered by more solar.
We believe in promoting individual change with energy consumption self awareness, self sustainability and responsibility.
We believe in sound, reliable solar products that offer you high performance and return on your investment year after year. We do not endorse products that we would not use on our own homes.
We believe we can help the community make sound choices about solar products.
We believe you will feel good about your contribution to the environment as well as saving money on your power bill with a solar installation.
We believe your individual action will promote others to take action and together we will create a more sustainable future.
Superior Solar provides quality, high performance solar products and first class  service to people in the Newcastle, Central Coast and Hunter regions who are interested in reducing their carbon footprint and managing ongoing electricity price increases.
Superior Solar was established prior to the "government rebate bonanza" and has been experiencing a steady growth since its establishment in 2001.
Most of our team have been working in the renewable energy industry since 1993.
We pride ourselves in our level of customer care and provide service and assistance long after your installation date.
The Clean Energy Council offer a fantastic resource to students and teachers alike who are interested in learning or teaching more about clean energy.
The student section of the website includes a range of fact sheets plus a renewable energy video presentation.
Clean energy & energy efficiency
Wind energy
Solar photovoltaic power
Solar thermal energy
Solar water energy
Hydroelectricity
Bioenergy
Geothermal energy
Marine energy
Find our how much solar can save your family or business
Quality Solar systems from a team you can trust