The Clean Energy Australia Report 2014 is a comprehensive overview of Australia's renewable energy and energy efficiency sectors compiled by the Clean Energy Council. It includes key figures and statistics on the energy market from the past year.
Some interesting key points:
Renewable energy made up 13.47% of Australia's total energy production in 2014, enough to power 4.5 million average homes.
95% of Tasmania's power came from renewables and 40% of South Australia's.
More than 15,000 businesses now have installed solar power saving approximately $64 million each year.
More than 1.4 million solar power systems had been installed in Australia at the end of 2014, along with more than 900,000 solar hot water systems.
The renewable energy industry employed just over 20,000 people in 2014.
In 2014 Australia dropped from 11th in the world for renewable energy investment to 39th, this is largely related to the ongoing RET review.
Electricity use from the grid declined for a 6th straight year.
In 2015 6 systems were built between 500kW and 1MW, 4 of these by Ikea and the other 2 by Toyota.
Installed megawatts in Australia is still only small by comparison to Germany who has been the world's top PV installer for several years and still leads in terms of the overall installed capacity; now 38,653 megawatts (MW) as at the end of April 2015.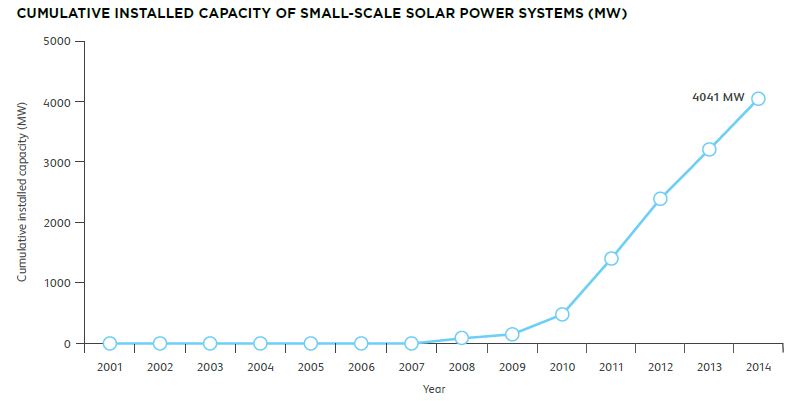 Interestingly Germany also has about 1.4 million PV systems installed, but these include small roof-top systems, to  large utility-scale solar parks, that altogether contributed 35.2 terawatt-hours, or about 6.9 percent in 2014. This brings the country's share of renewable electricity to about 31 percent, and in line with the official governmental goal of reaching 35 percent by the end of the decade.