Switch to solar hot water
Its an energy efficient choice, naturally.
Solar water heating offers low running costs, reduces the amount of fossil fuels and lowers greenhouse gas emissions. Its good for your wallet and good for the environment. Plus, if you switch now you will also receive up to $250 cash back (on an eftpos card)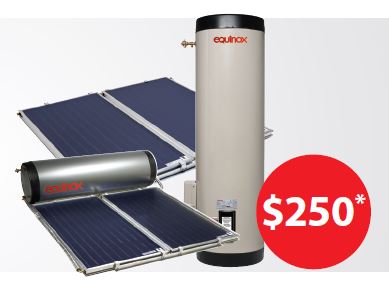 $250 CASH BACK  "It's on again!"
If you missed the Rinnai $250 cash back last year then now's the time to get in quick!
This $250 Cash back is available for the Stainless Steel "Equinox powered by RINNAI" range of solar hot water systems.
The Equinox Cash back promotion runs from 2nd  to 30th November 2013 and requires the SHW system to be purchased, fully installed & paid before 30th of November 2013.
Full terms and conditions  EQUINOX Cash Back Promotion
Forms to be received by Rinnai before 13th December 2013