Superior Solar would like to wish all our customers both new and existing a wonderful and safe Christmas and New year
We are getting into the Christmas spirit giving away two types of energy saving adapters you might like to trial in your home.
Just jump on facebook page and do any of the following:
Share our facebook page with friends you think are interested in solar,
Post a photo of your system and tag Superior Solar,
Write a review on Superior Solar anywhere online and link it to our facebook page and / or
Tell us why you want solar at your home or business.
We have plenty of units to give away so you wont miss out if you get in quick. Once supplies are all gone the offer is no longer available. The energy saving devices must be collected from our West Gosford showroom.
Merry Christmas
Remote Control Socket
The remote controlled socket allows you to turn your appliances on and off remotely. It saves you time, effort, electricity and money. Turn off appliances such as computers, TVs, microwaves or lamps. Great for hard to reach sockets under desks or behind TVs or microwaves. Attach a trailing socket to turn off several appliances at once.
More info on the Efergy Remote control Socket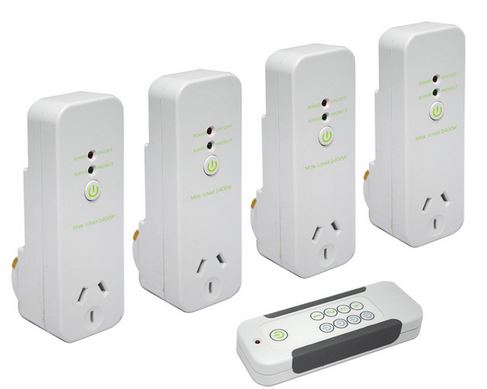 Foot Switch Control Socket
Allowing you to plug multiple appliances into one socket, the Footswitch can be turned on and off with one press of the foot on a large heavy duty switch. This makes this multi socket adapter ideal for hard to reach plugs. No more climbing under desks or behind the TV to turn off your equipment! The footswitch helps to increase the life of your electrical equipment by reducing the amount of time you leave it on standby.
Both the cable from the plug to multi socket adapter, and the cable from the adapter to the foot switch are both 1.5m long. The multisocket adapter is capable of accepting 6 plugs.